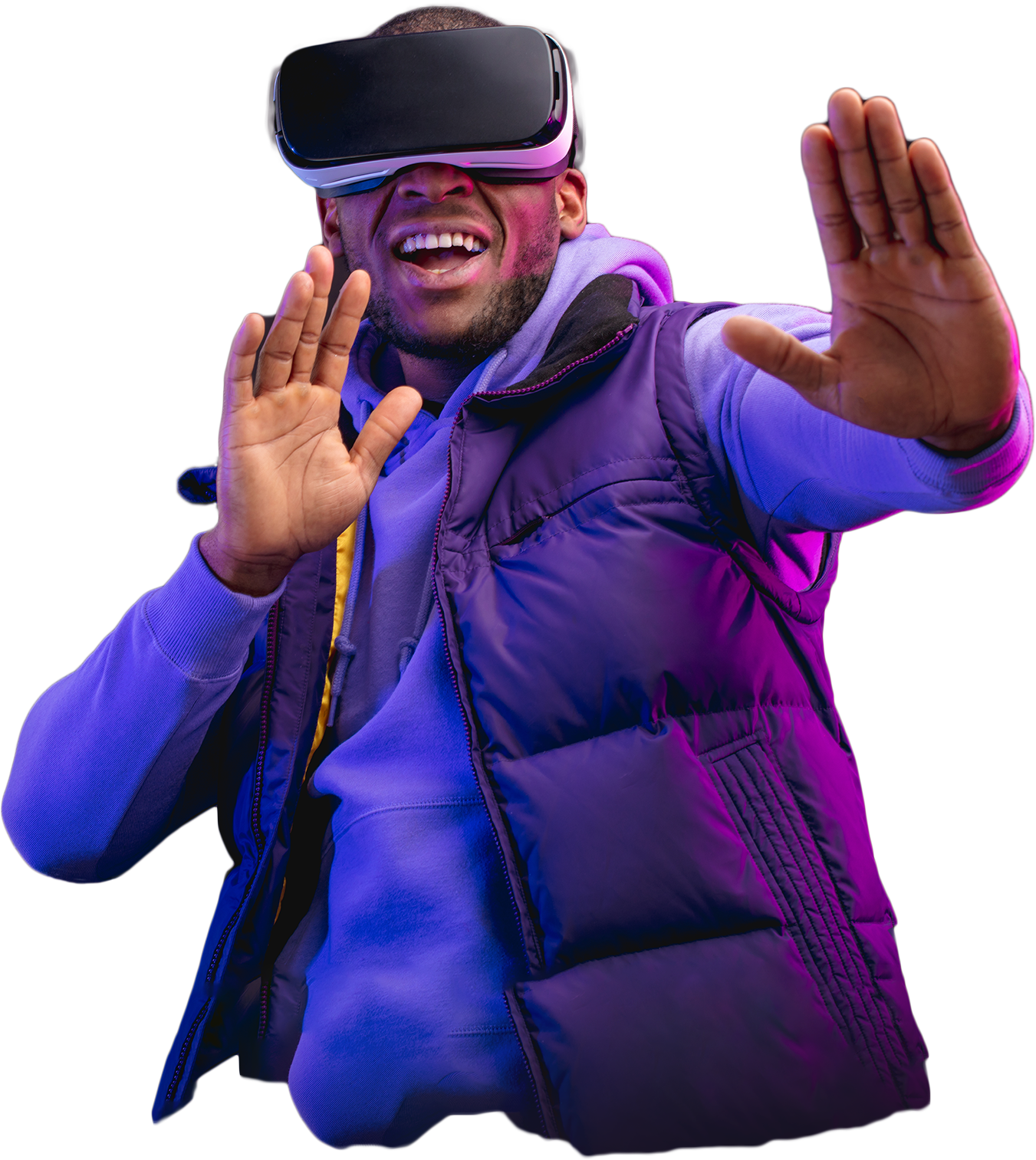 Create Your Own VR Experience
From scratch, with no coding required.
Enroll Now
DNA VR started as London's First Virtual Reality Centre welcoming thousands of customers through its doors.

Over the years we have sponsored Teen Hackathons, partnered with local Youth groups and wherever we went we were faced with the same question from aspiring programmers: "How do we develop somethings as cool as this ourselves with no prior knowledge or coding skills?"

This year the lockdown nudged us to share our years of expertise and develop a very easy-to-follow course that would help anyone who is thinking about VR development kickstart their career. We will walk you through most of the steps in VR development guiding you from content creation to coding through sound. We will also dive deeper in the theoretical materials with our live lectures held in VR so by the end of the course you would have both a strong knowledge of the subject and the skillset required to start developing your own products!
What Will You Learn?
Ask Questions and Learn Together
You will create your own Escape Room and you can play it yourself.
Create Your Bespoke VR Experience
Explain how to create exciting quests
Program Without Code
Master the Unreal Engine 4, learn to program with Blueprints
Build Your Own Assets
Let's show how to use Tilt Brush and Gravity Sketch for creativity
Enroll Now
What Our Students Say
Great for beginners!
My 15 year old was really bored during the lockdown and started looking for things to do at home. After a few lessons with DNA VR academy he is developing his own projects and I even played one of his games!
Loads of content!
I started as a full beginner and signed up for the trial. I found videos and VR seminars very insightful and thought-through. Can't wait for more content!
I built a game from scratch
I started as a total VR novice. The team at DNA VR helped me start creating the assets in Gravity Sketch and Tilt Brush and then download them. I created a few puzzles using the objects I drew in Virtual reality. When it all finished I was able to play my own VR game!
Enroll Now
Course Curriculum
Introduction & Meet your Instructors
03:09
Setting up a project
3:36
Intro To Blueprints
12:11
Viewing the VR Templates
21:19
Inputs, Custom Events & Cross-Platform Considerations
36:40
Test Your Learning: Unreal Engine Quiz 1
12:20
Intro to Creative Applications
14:20
Basics Of Gravity Sketch
07:12
Solid Modelling: Basic Mechanics
13:55
Solid Modelling: Copying + Object Manipulation
09:29
Solid Modelling: Solid Brush + Intro to Control Points
12:48
Solid Modelling: Maintaining a Consistent Scale
27:29
Solid Modelling: Asset Hierarchy
38:22
Test Your Learning: Unreal Engine Quiz 2
49:12
Solid Modelling: Asset Hierarchy
32:24
Weight Scale Puzzle
12:24
Introduction To Materials
13:17
Level Streaming Basics
14:59
Best creative practices for Asset Creation
17:23
Mirrors Control points and surface modeling
21:22
Using Tools Together
19:27
Test Your Learning: Unreal Engine Quiz 3
19:27
Lights Out Style Puzzle
12:24
Introduction To Sound
07:12
Best Creative Practices 2
14:32
Working with Layers
18:34
Creating Complex Assets
46:21
Test Your Learning: Unreal Engine Quiz 4
46:21
Intro To Particle Systems
17:22
Frame by Frame 3D Animation
28:12
Torch & Fireplace Puzzle
19:10
Watering Can and Pottable Plant Part 1
09:57
Watering Can and Pottable Plant Part 2
07:31
Using SUB D for advanced modeling
04:54
Intro to character design
12:49
Physics 1: Lever & Bridge
18:21
Physics 2: Wrecking Ball
12:42
Physics 3: Mesh Destruction (PCVR Exclusive)
13:47
Finishing our Boss model
11:20
Texturing and Level Design
15:55
Artificial Intelligence: Creating Boss Combat
16:11
Final Touches: Escape Room Specialties
26:11
World Building + Kitbashing 2
08:20
VR Editor & Level Creation
12:48
Final Touches: Look Dev
17:49
Performance Monitoring & Optimization
21:20
Sharing Your Projects
21:20
Enroll Now
Meet the Team
All of your lecturers have been involved in the VR industry for several years. Most of them have VR Development background and all of them have been working at DNA VR's VR Centres, guiding customers through their very first VR experiences. Combining deep theoretical knowledge of VR Development with Software Development skills and first-hand customer insights our team is in the best place to help you get successful in your journey to VR Development. We all are huge VR enthusiasts and know what works well for the customers, how clients react to different experiences as well as having the context of what makes a great game from their perspective.
Louis Silva
Louis is a game designer and developer. Majoring in Game Design at the University of East London and has been working on and around games ever since. Louis has successfully launched multiple Virtual Reality games and is now participating in game jams to help other people get into the joys and difficulties of the world of game design.
Hans Jovine
Hans is a product designer and problem solver. American born working internationally. Has a BSc in Product design From Central St Martins & studied engineering in New York. Virtual Reality is a major part of his design process, using apps like Gravity Sketch and Tilt Brush to create rapid design iterations and improve the efficiency of the 3d modeling pipeline.
Patrick MW
Patrick is a physics graduate from Imperial College London. This year he will begin his MSc in VR/AR at Goldsmiths University, studying part - time whilst continuing his work in the VR industry. Throughout his studies he has gathered a deep proficiency with technology, coding languages and software
Tamer Aray
Тamer is an immersive developer and producer. A Turkish national living in London; over the years, he's helped thousands of people try VR for the first time while working at galleries, VR centres and corporate events and has expert knowledge in XR production
Enroll Now
Frequently asked questions
Currently we the price for the lifetime access to more than 50 hours of content is only £80 + VAT. We appreciate any feedback from early subscribers and will be happy to tailor the course according to your needs!
Do I need a VR Headset to take this course?
It is recommended to have any modern VR headset to be able to build assets inside Virtual Reality and also preview your own game. HTC Vive, Vive Pro, Oculus Rift or Oculus Quest/Quest 2 would work.
Do I need any coding knowledge before taking this course?
No! While understanding the subject always helps, we start from the very beginning and explain complex subjects with very easy-to-follow videos. No coding knowledge is required!
When does the course start and finish?
The course starts now and never ends! It is a completely self-paced online course - you decide when you start and when you finish. In 8 weeks and 50 hours you will complete your journey from a complete beginner to a VR developer!